Taxation Rates for 2023
Taxation Rates for 2023
Rate of Taxation Bylaw  
 
Residential & Tourist Home - Personal Use
Tourist Home
Non Residential
Residential Vacant Serviced Land
Municipal
2.05063
6.72057
6.72057
2.05063
School Support
2.15865
2.15865
3.25642
2.15865
Seniors Requisition*
0.14440
0.14440
0.14440
0.14440
Vital Homes
0.01937
0.13619
0.13619
0.01937
Total Mill Rate
4.37305
9.15981
10.25758
4.37305
Municipal Tax Ratio (Class: Residential)
1 : 1
3.28 : 1
3.28 : 1
1 : 1
* Senior Req. Rate is for Bow Valley Regional Housing (BVRH)
To calculate your levy amount:  Assessed Property Value x Rate / 1000 = Tax Levy
Previous Rates:   Mill Rates Chart 2014 - present
Tax Rate Information
The Town of Canmore collects just enough property taxes to cover operating budget requirements, the provincial education tax requisition, and the seniors requisition. To determine the tax rate - or mill rate - administration calculates how much of the total is to be collected from residential and non-residential properties (the split), then divides these amounts by the total assessed value for each property classification. 
Property Tax Rates are set by Council in May annually.  Property Tax Notices for the current taxation year (January 1 - December 31) are mailed in late May. Property Taxes are traditionally due on the last business day of June. Review your Annual Property Tax Notice to confirm the due date for the current year.

Comparing Canmore's Municipal Taxes to Neighbouring Communities
We regularly monitor the tax rates in other municipalities. The intent of the Town of Canmore Property Tax Policy is to target a residential:non-residential tax share split in line with the average of similar communities. As you can see in the charts below, Canmore's municipal taxes are in line with the average taxes per dwelling of many of our neighbours.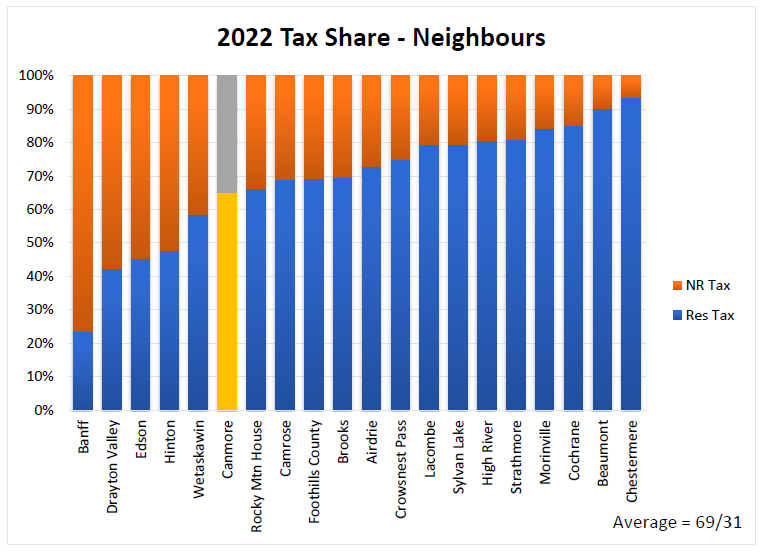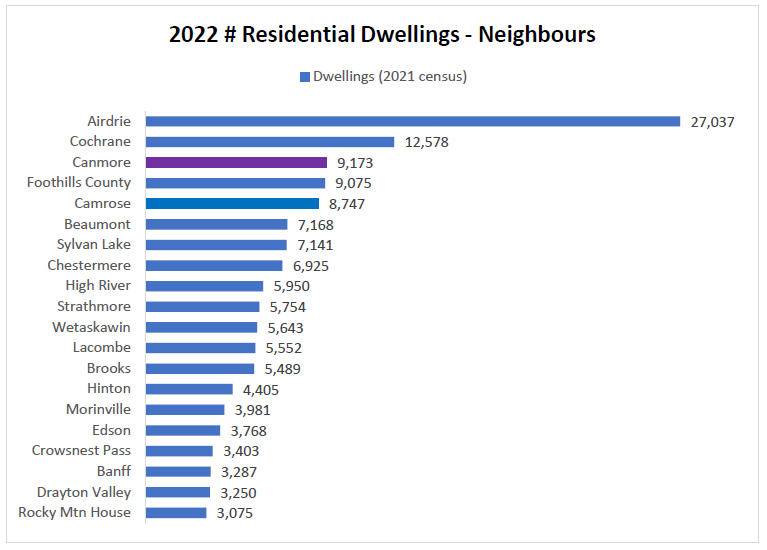 We compare taxes based on the number dwellings being taxed, rather than per capita, since we have such a large, non-permanent population, and it is difficult to determine the number of non-permanent residents. Therefore, the per capita calculation did not result in a clear comparison.