Off Leash Dog Parks
Canmore has five off leash dog parks for you to enjoy. The location of each of the parks is shown in the map below, more information on each of the parks can be found below.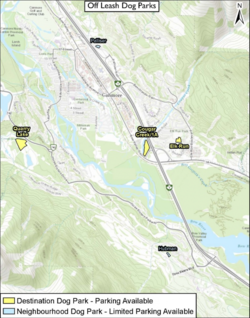 1. Quarry Lake Dog Park: This park offers two official off leash areas - the meadow area and a pond area where you can swim your dog. Off leash zones are clearly marked and dogs are to be on leash when not in the official off leash zones. 
2. Cougar Creek/Highway 1A Dog Park: This park offers parking and is located off of the 1A highway right along Cougar Creek. This park has a four foot fence and offers a large area for your dog to run.
3. Elk Run Dog Park: Located on Glacier Drive with parking available in the Elk Run Ball Diamond parking lot located off of Glacier Drive and Sandstone Terrace. This park has a five foot chain link fence.
4. Palliser Dog Park: Located on Palliser Trail this is a smaller neighborhood park. There is limited on-street parking. This park has a five foot chain link fence.
5. Hubman Dog Park: Located in Three Sisters off of Three Sister Boulevard this is a smaller neighborhood park. There is limited parking at this location, it is the small parking lot located off of Three Sisters Boulevard. Please do not park on private property when using this park.
Need to Know
Outside of the off leash area, dogs must be on leash. Read the 2022 Animal Control Bylaw bylaw to learn more about Canmore's laws.
Pick up your dog's poo
Dogs must be licensed and vaccinations up to date
Please keep your dog under control and within your sight
Report dog bites to Municipal Enforcement at 403.678.4244
Background
Guidelines for future dog parks are outlined in the 2015 Open Space & Trails Plan 
Process for New Application - Online:
Download and complete the above application form.
Email the completed form to ccreception@canmore.ca OR drop in mail drop slot at the Canmore Civic Centre OR mail to 902 7 Ave, Canmore, AB, T1W 3K1.
A member of our team will contact you to arrange payment over the phone. Alternatively, you can drop a cheque off with your application in the mail-drop slot made payable to "Town of Canmore."
The dog tag will be mailed to you.
Process for New Application - In Person:
Complete your application in person at the Canmore Civic Centre, 902 7 Ave, Canmore, AB, T1W 3K1.
| | | |
| --- | --- | --- |
| Month Purchased | One Year Licence | Three Year Licence |
| January - March | $55.00 | $114.00 |
| April - June | $41.50 | $105.00 |
| July - September | $28.00 | $96.00 |
| October - December | $14.50 | $87.00 |
| | |
| --- | --- |
| Other Fees |   |
| Cat Licence (voluntary) | $25.00 |
| Replacement Tag | $10.00 |
| Impound Fee | $50.00 |
| Kenneling Fee per day | $20.00 |
* Licences expire on Dec. 31 and must be renewed prior to Jan. 1 for the following year.
** The pro-rated fees are applied to new applications only.
Town of Canmore dog licence fees pay for the following:
Food and treats for lost or abandoned dogs and cats.
Maintenance of the kenneling facility.
Mutt Mitts (poop bags). Annually over $23,000 is spent on maintaining and operating this program.
Veterinarian visits for sick abandoned animals, medications, and surrendering fees.
My Licence Is My Ticket Home
Having a valid dog licence ensures the Town of Canmore Municipal Enforcement can identify your dog and return it home to you. If a lost dog is found at large and is wearing a Municipal Enforcement Officers will attempt to return your dog, free of charge*. If you are not at home we will care for your dog in our kenneling facility until you can pick up your pet.
*Drive Home Program only applies to dogs that have a valid licence in the Town of Canmore and one occurrence is permitted per year. Certain circumstances shall void the return of an animal for free.
Voluntary Cat Licencing
Owners of cats may voluntarily licence their cats for a one-time fee of $25.00. This voluntary licence will enhance the ability for Municipal Enforcement to ensure the safe return of your cat should it come into our possession.