Canmore Recreation Centre
The Canmore Recreation Centre offers a variety of sport and leisure opportunities for all ages. The facility has two ice rinks, two multipurpose rooms, one including a servery, two meeting rooms, and a fully-equipped fitness gym available for private hire. Outdoor amenities include a skate park and sports field.
Elevation Place
Elevation Place features an aquatics centre, climbing gym, fitness facilities, child minding services, the Canmore Art Guild gallery, the Canmore Public Library, and more. 
Recreation Membership FAQs
1. Go to recreation.canmore.ca 

2. Click on MY ACCOUNT 





Have you already been to Elevation Place or signed up for a course?

1. If you have never signed in online, but you have signed a waiver, held a membership, signed up for a course or camp, or have otherwise used an email address with Elevation Place, click FORGOTTEN PASSWORD to set up a new password.

2. Log in using the email address linked to your account with Elevation Place. if you do no know which email address is linked to your account, please phone the Customer Experience desk at 403-678-8920 ext. 0. 


Is this your first time visiting Elevation Place?

1. If you have never visited Elevation Place or provided your email, create an account under MY ACCOUNT.
2. Enter all personal details, age category, email address, phone number, and create your password. 
If you believe your family member already has an existing account in our system, please call or visit Customer Experience, and we will be happy to set up your family group.

1. Log into your account or create a new account

2. Click on your name on the top right hand corner

3. Select Families and Groups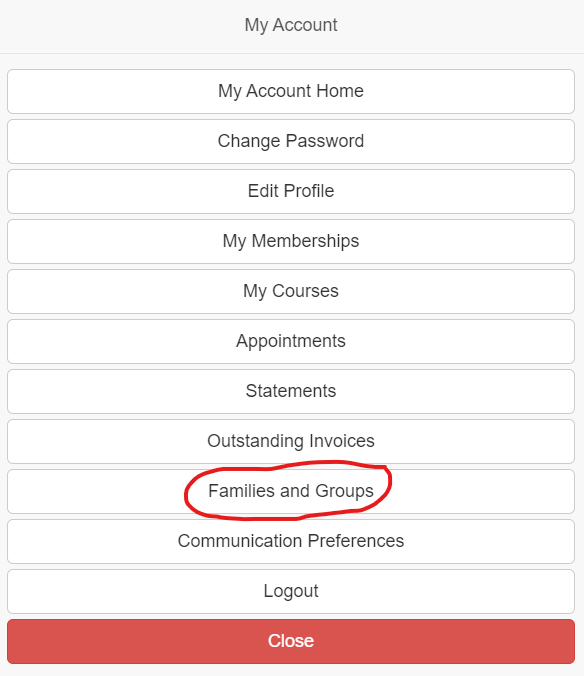 4. Click "Create Group" and use your last name as the description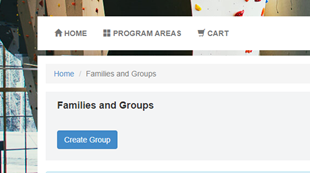 5. Click "Add" and add any remaining family members to your account
1. To book a family member, select a name from the participants drop down menu, and click the blue GO BUTTON. Wait for the page to load, and continue booking. If you do not select the GO BUTTON it will book the appointment under the account holders' name.

2. If you do not see your family members, please refer to adding family members to your account above. Each family member (all ages) must be booked individually in order to secure a spot. Click continue shopping in your cart to add another family member, and repeat the steps above.

3. Once you are happy with the reservations in your cart, click checkout to confirm the booking(s)
1. To see your appointments, ensure that you are logged into your account.
2. Click on your name on the top right corner
3. Click on Appointments, then you will be able to see all your appointments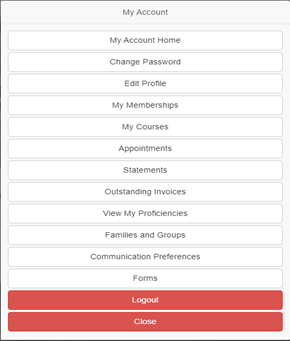 Error Message when logging in
Are using the correct email that is assigned to your Elevation Place account?
Are the email and password spelled correctly?
Did you check your junk folder for your reset password link?
Password in use Error
Ensure that you are not using the same password as you have used previously
Do you already have an account with Elevation Place, signed a waiver or took a course with us? Click forgotten password – this will send a link directly to the email we have on file for you
Contact Customer Experience if you don't know the email address that you have on your account 403-678-8920 ext. 0