Three Sisters Gallery
Located on the second floor of Elevation Place, the Three Sisters Gallery is a public gallery established in 2013 by the Town of Canmore Public Art Committee. The Three Sisters Gallery is located in an open, public space, used by a large cross-section of residents and visitors who might not normally go into gallery spaces.  The gallery engages the community by presenting a diverse mix of visual art and artists from Canmore and beyond.  The goal of the gallery is to offer artists the opportunity to exhibit in a public space and to engage the community by exhibiting new artists, artworks and ideas.
To apply to exhibit in the Three Sisters Gallery, please read the details below. 
Current and Upcoming Exhibits
June 1 - Aug 30, 2023 | Indigenous Perspectives: an exhibit featuring the work of Indigenous artists 
Sep 1 - Nov 1, 2023 | In Our Nature: celebrating the beauty of culture, diversity, and inclusivity within the Canmore community
Nov 3, 2023 - Jan 31, 2024 | Kinship: exploring the webs and threads that connect us to our mountain home
Exhibiting at the Three Sisters Gallery
While we accept applications from all artists to exhibit within the Three Sisters Gallery, preference will be given to those who reside in the Bow River Corridor (from Calgary to Lake Louise, including all Treaty 7 Nations and the Metis Nation of Alberta Region 3). We also encourage applications from all levels of artists, including senior, mid-career, and emerging. Artists who identify as LGBTQ2S+, non-binary artists, artists of colour, Indigenous artists, and/or artists with disabilities are strongly encouraged to apply.
Artists can apply for the gallery solo or as part of an artist collective/team.
If selected to exhibit, artists will enter into a contract with the Town of Canmore and must declare that the artwork submitted is original and does not violate the copyright, cultural heritage, or intellectual property of any other person or group. 
All artwork submitted for exhibits must be suitably framed or on canvas and ready for hanging with D rings. The Three Sisters Gallery uses a non-locking hanging wire and hook system.
Visual artworks should not exceed 4' x 6' in size.
The Three Sisters Gallery accepts literary submissions in addition to visual art. Literary submissions should be suitably framed or on canvas. For larger-scale works, the gallery can install a wall decal in coordination with the artist. Literary works should not exceed 4' x 6' in size, and the font size must be between 50 - 72 pts. 
Applications to exhibit in the Three Sisters Gallery can be made online here.

All applicants must be prepared to include the following:
Artist or Artist Team Statement

Current CV/resume

Exhibition Statement

Visual Documentation (maximum 20 images)

Artist Photo*

Exhibit Layout Drawing*
*optional 


The Town of Canmore is committed to supporting artists who may require accommodations to fairly access this application process. I you require accommodations, please email artsandculture@canmore.ca 
The run-length of the Three Sisters Gallery is approximately 85 feet. The ceiling height is approximately 9 feet.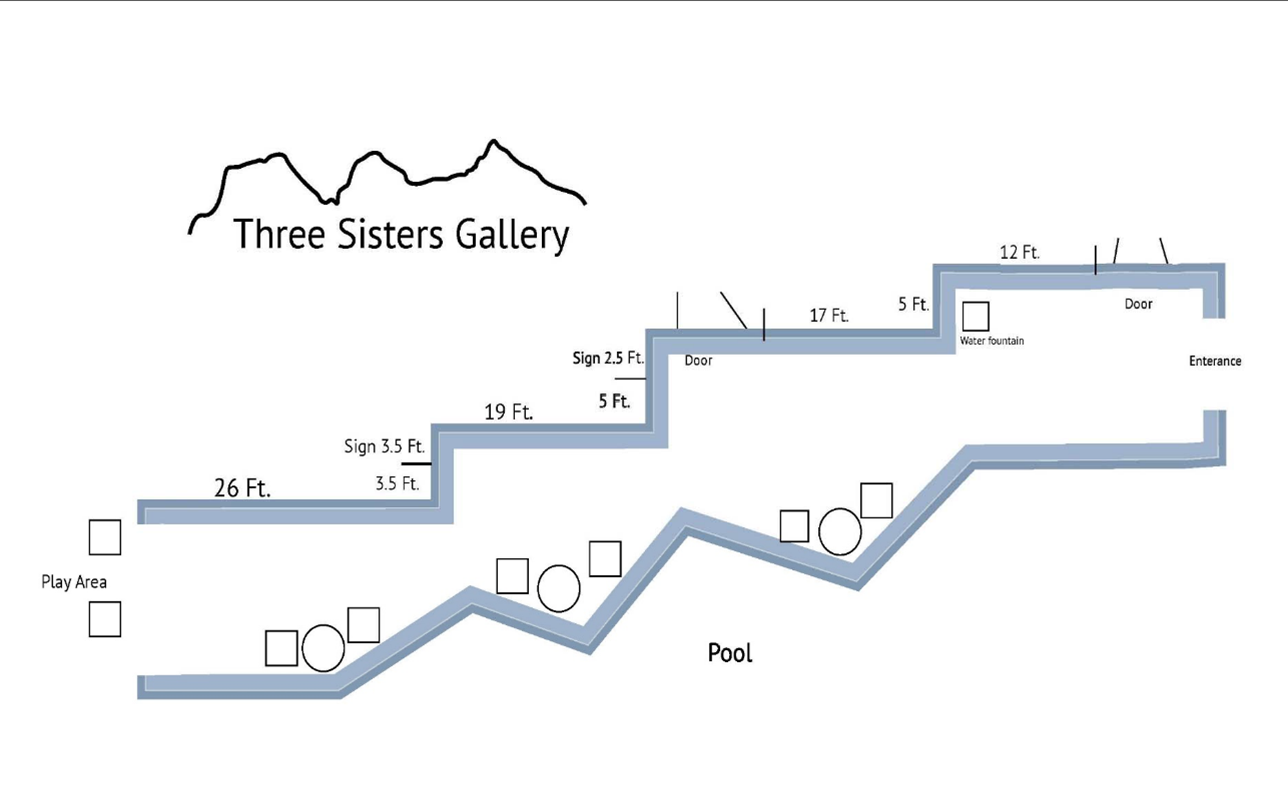 The maximum award for each show is $1500. For group shows, the commission will be divided among participating artists. 
All submissions to the Three Sisters Gallery are juried by a committee made up of artists, residents, and community members. 
Selection criteria of artworks are based on theme, technique, emotional response, creativity and innovation, and suitability to the Three Sisters Gallery space and its patrons (from infants to seniors, representing diverse socio-economic and cultural backgrounds). The gallery is unable to accept works that feature nudity or profanities.