A 1.5% penalty will be applied to any outstanding utility account balances if not paid by the 25th day of each month (or next business day if the 25th is a weekend or holiday). If there is a balance owing on an account, any payment will be applied first to penalties, and then to the outstanding balance.
Unpaid utility accounts risk transfer of arrears to the property tax account. Please contact the Utility Department if you would like to discuss payment options. 
The Town of Canmore and our partners at EPCOR Water Services are upgrading the water meters in your neighbourhood.  Although some meters in the neighborhood have already been upgraded, the existing water meter at your property is being phased out and will be replaced by the new Encoder Receiver Transmitter (ERT) Meter. Over time, water meters decrease in accuracy and this upgrade will allow for more accurate and efficient meter reading via remote access.
Prepare for your appointment
The meter exchange can take up to one hour to complete.
Be prepared for your water to be turned off for up to one hour or for the duration of the appointment.
An EPCOR technician will meet you, or your representative, at your Canmore property per your specified booking time. You or your representative must be an adult (18yrs +) and be present in the home for the duration of the appointment.
The EPCOR technician will require access to the inside of your property to perform the meter upgrade; please ensure easy access to the water meter.  Unlike your gas or electric meters, the water meter is located inside the home where it can stay warm.  It is often installed near the water shut off valve, sometimes located in a furnace room or mechanical room. The technician will need a clear path to access the meter and some working space to complete the exchange. 
Please email water@canmore.ca or call 403.678.7134 if you have questions. 
Utility readings are obtained through a remote reading device located on the outside of the home.  As per the Utility Bylaw every home is required to have a remote reading device in order to ensure an accurate meter reading.  If a remote reading device has not been installed contact the Utility Department (water@canmore.ca or 403.678.7134) for further information.
In this case a meter reading tag will be left on your door and you will have to read the meter yourself and inform us of this by calling the phone number indicated on the tag. If a meter reading tag has been left at your door, please call in your meter reading no later than the second last working day of the month in order for us to receive the information in time for that month's billing. A meter reading can be left at this number 24 hours a day – 403.609.6400. Please provide your name, telephone and utility account number plus meter reading number.
If an accurate meter reading cannot be obtained we will estimate your usage on your next utility bill. It is the responsibility of the homeowner to ensure that the Town of Canmore is able to get an accurate meter reading either by allowing unhindered access to the remote reading device or phoning in the meter reading on a regular basis.  Accurate meter readings allow the homeowner to be aware of their water consumption patterns and identify any leaks on a timely basis.
Homeowners are responsible for all water consumption even in the case of leaks.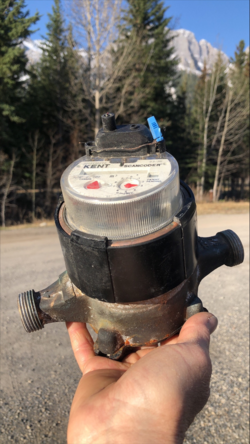 Water meters are always located inside the home (so they don't freeze). It is often installed near the water shut off valve, sometimes located in a furnace room or mechanical room. This is what the meter looks like.