Feb. 13, 2023     Property Assessment Notices Mailed 
April 24, 2023    Complaint Due Date
May 15, 2023     Annual Tax Notices Mailed 
June 30, 2023    Payment Due
Note: The typical residential property in Canmore saw an average assessment of 22.1%. This does not mean that every property will experience a 22.1% increase. Each assessment is prepared independently from prior assessed years; the previous assessment is not instrumental to the determination of the current assessment. Each year as more sales occur, values may shift in different proportions based on market demands. When looking at your property assessment notice, ask yourself: if you sold your property on July 1, 2022, would it have sold for the value listed on your notice? If you think there is a discrepancy in the assessed value of your property, contact the assessor. You can find the contact details below.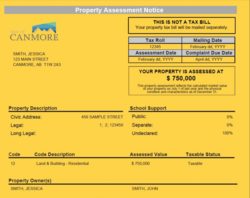 Understanding your Property Assessment Notice
Market value, as defined in the Municipal Government Act 1(n), means the amount that a property might be expected to realize if it is sold on the open market by a willing seller to a willing buyer. Market value assessments are calculated by using mass appraisal techniques that determine property values by grouping similar properties as of a specific date.
The purpose of assessment is not to reflect a single sale price but to assess all properties at typical market value on the same valuation date so that taxation is fairly and uniformly shared. The assessed value as shown on your current year notice is based on the economic conditions on July 1 of the previous tax year and the physical condition and characteristics of the property as of December 31 of the previous tax year. With this in mind, please compare your current assessed value to the market conditions as of July 1 of the previous tax year and not to current market conditions.
Your yellow Assessment Notice is not your tax bill.
Assessment Notices are mailed by the first week of March, and owners have 60 days to review the assessment, and the dates are outlined on the Notice. The 60-day Customer Review Period is the only opportunity to review and ensure the fairness of your market value property assessment.  This assessment is the basis on which your property taxes are calculated.  
If you have questions regarding your property assessment, please contact Benchmark Assessment Consultants, the Town of Canmore's contracted assessor.
An assessed person is entitled to see or receive sufficient information about that person's property in accordance with Section 299 of the Municipal Government Act or a summary of an assessment in accordance with Section 300 of the Act, or both.  Reviewing the Assessment for the current year tax purposes means looking at the assessed value displayed on the Notice and being satisfied with the market value of the property given Canmore's real estate market as of July 1, of the previous tax year.
The Assessment Roll is a listing of the assessed value of all properties within the Town of Canmore for the period shown. The Assessment Roll links below reflect assessed values as of the date of the document.  A copy of the complete Annual Assessment Roll with more detailed assessment information may be viewed in person at the Town of Canmore Civic Centre location.
The Municipal Government Act (section 290.1) states that every unit, including titled parking stalls and storage units of a condominium must be assessed. In residential and/or business condominium properties, separately registered titled parking stalls, and storage units are assessed separately from living/office units because they are separately titled, hold value, and can be sold separately. The property unit and the parking stalls are assessed separately and when added together represent a total value that is in line with, or reflective of, property sale samples of a similar type in a similar area. To enroll on an automatic withdrawal program for the annual payment, visit Tax Installment Payment Plan.
The Provincial of Alberta sets the legislative framework for property assessment in Alberta through the Municipal Government Act. In compliance with this legislation, the Town of Canmore delegates an assessor to prepare assessments annually. This assessor ensures that the assessment complies with the Standard of Assessment Regulation as set out in the Municipal Government Act. The Audit Branch of Alberta Municipal Affairs monitors assessments to ensure assessors have applied legislation properly and that assessments are prepared using the same value standards for all properties and that the resulting assessments are fair and equitable. The Town of Canmore and Province of Alberta use these values when they each calculate the municipal and education portions of the total property tax levy. 
You can also download the Alberta Guide to Property Assessment or Filing Property Assessment Complaint.
The 60-day Customer Review Period is your opportunity to review and ensure the fairness of your market value property assessment (used for current year property tax purposes) and to learn more about how your assessment was determined. Remember, your assessment is the basis on which your property taxes are calculated. 
Customer Review Steps:
Step 1: ask yourself the following:
Is the market value assessment of my property a reasonable estimate as of July 1, of the previous tax year?
Are the factual details that the Town of Canmore has on record for my property correct?
Is my assessment equitable when compared with similar properties others in my neighborhood?
* Corrections to the name or address of the assessed person(s) or their school support status may be made without filing a complaint. Contact the Town of Canmore Tax Department at 403.678.1506 or taxes@canmore.ca 
Deanne Bannerman, AMAA
Town of Canmore Assessor
Benchmark Assessment Consultants Inc.
Phone: 403.770.9679

Step 3: if you're still not satisfied with the assessment or explanation from the Assessor you have the right to file a complaint with the Assessment Review Board.
Filing a Complaint:
Your complaint may be about any of the following, as shown on the Assessment Notice:
Assessment amount
Assessment Class  Assessment Code Legend
Description of a property: legal land description or property street address*
School Support Declaration*
Name or mailing address of an assessed person*
* You can correct this information without filing a complaint by emailing details to taxes@canmore.ca or faxing to 403-678-1524.

Download the Assessment Complaint Form here:
Alternately, contact the Tax Officer at taxes@canmore.ca or 403.678.1506 to have a form forwarded to you.

Submit the completed complaint form, along with the applicable fee, on or before 4:30 p.m. the final date of complaint as shown on the Assessment Notice to the:

Assessment Review Board Clerk
902 7th Avenue
Canmore, AB  T1W 3K1

Complaint Fee Schedule, effective 2021:
| | |
| --- | --- |
|   |   |
| Residential properties of 3 dwellings or fewer |  $50 per roll |
| Multi-Family Residential of 4 or more dwellings |  $650 per roll |
| Non-Residential units |  $650 per roll |
Payment can be made by cash, cheque, or debit, made payable in Canadian funds only to Town of Canmore.
Appeal fees will be refunded if the Assessment Review Board decides in favor of your appeal.
It is important to note that, if you have submitted an assessment appeal and are awaiting a decision, you are still obligated to make your property tax payment by the due date.
If you file a complaint, a hearing will be scheduled and the Notice of Hearing sent to you. Upon hearing the arguments presented, the Assessment Review Board will either lower, raise, or confirm your assessment. The decision will be delivered in writing to all parties concerned.
Your Assessment Notice is not your tax bill.  Assessment value is used to calculate your property tax levy using the following formula:
              Assessed Property Value X Total Mill Rate / 1000 = Tax Levy
Annual Municipal Tax rates will be set by your Town Council in May. The Education Tax requisition is set by the Government of Alberta. Visit Tax Rates to learn more about the current year's mill rate.
Annual Tax Notices are mailed in late May with a payment traditionally due on the last business day of June.