Fire Advisory in Effect
May 4, 2023 - a Fire Advisory is in effect. 
A fire advisory is an indication that the fire danger rating has increased. Fire permits may be restricted. Safe campfires are allowed in campgrounds and backcountry or random camping areas.
| | |
| --- | --- |
| ACTIVITY | RESTRICTION LEVEL |
| Fire Permits | Restricted or Suspended |
| Safe wood campfires on public lands | Allowed |
| Safe wood campfires in a designated campground | Allowed |
| Safe wood campfires on private land | Allowed |
| Safe wood campfire in backyard fire pits | Allowed |
| Barbeque – Charcoal briquette | Allowed |
| Fireworks | Always Prohibited unless a permit has been issued |
| Exploding targets | Always Prohibited |
| Propane/natural gas-powered appliances on private and public lands | Allowed |
| Indoor wood fire | Allowed |
| Open flame oil devices | Allowed |
Help Prevent Wildfires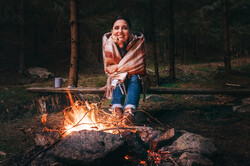 What you can do to help protect our community
If you see a wildfire, report it immediately by calling 310-FIRE. 
Never leave a fire unattended.
Completely extinguish campfires with water. Soak it, stir it, and soak it until it is cool to the touch.
Do not throw cigarettes on the ground. Put them out and discard in a bin.
Off-Highway Vehicles can start wildfires - check frequently to ensure hotspots are free of debris and make sure mufflers and spark arrestors are working properly.
Stay Informed
Bookmark albertafirebans.ca or download the Alberta Fire Bans app to access information on fire advisories, fire restrictions and fire bans in effect across the province.